This year I participated in
12 Days of Christmas Swap!
I was so excited to do this! I also had a ton of fun doing it. I bought 12 little presents for Becca over at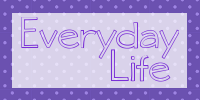 She in turn bought me some GREAT Presents.
I had so much fun unwrapping them every day!
Opening the box! I was so excited to see so many gifts!
Look how pretty all of them are!
DAY 01
CHristmas with the Chipmunks
DAY 02
A beautiful snowflake ornament... with Lils.
DAY 03
A new book to read
DAY 04
manicure stuff!
DAY 05
A purse Hanger! SOOO wanted one of these for a while!
DAY 06
awesome nail "stickers"... can't wait to try these out!
DAY 07
a pretty necklace
DAY 08
Lovely vanilla flavored soap rose petals
DAY 09
YUMMY Cherry bites! LOVE THEM!
DAY 10
AWESOME new nails!
DAY 11
Another new book! I love to read!
DAY 12
new nail polish. Can't wait to try it out...
I had a lot of fun doing this swap, and I can't wait to do another one! I hope Becca enjoyed my presents to her as much as I enjoyed mine!