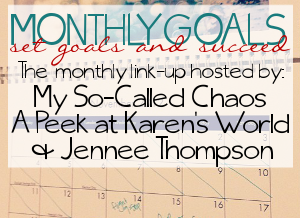 January Goals
1- Continue with Project 365. Take a picture a day for the entire year. Just take my time and get to the end of January!
I did a great job with this, and I've continued this month.
2- Write in my Q&A a day journal. It's easy to do. Just answer the question, and get thru January!
I also finished this one.
4- REHAB - get back to rehab. I've been really lax on this, and I HAVE to do this.
FAIL!
I so didn't do anything close to this. I really need to do it.
6- Make at least 3 posts on AzSG's Facebook every day!
Mostly complete.. I missed a few days. But I'm in the swing of things now.!
February Goals
1- REHAB - DO IT!!! This is a must!
2 - Continue with the Project 365, Q&A Journal.
3 - Complete at least 2 new projects for AzSG
4 - Work on daily gratitude journal.
5 - Make at least 3 posts daily on AzSG FB.
6 - Make it to 2 Coffee & Crochet meetings
7 - Start weaning yourself off sugar, and coffee...
so good luck to me!
Do you have any FEBRUARY goals?